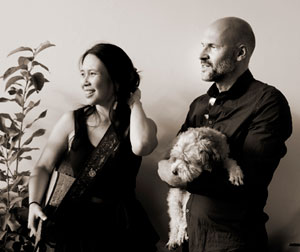 with SPECIAL GUESTS
CELINE YAP &
BRENDAN BONSACK

Described by Australian folk legend Judy Small as "a young Malvina Reynolds," Celine Yap is a folk singer/songwriter known for tackling political issues such as refugee rights, the environment, and social justice issues in the Philippines, her home country.

Prolific Melbourne poet and songwriter, Brendan Bonsack, recently joined Celine to produce two records. The sumptuous blend of their voices brought Triple J's Roots 'n All curator, Nkechi Anele, to remark, "I could not ask for a better duo."

Their latest release is an 8 track album The Gravestone Carvers.

" Another gorgeous offering. I've been listening to this on rotation for hours! A haunting and achingly beautiful 8-track album from Brendan Bonsack & Celine Yap. Entirely original with stunning poetic songwriting from Celine (with ripples of Simon & Garfunkel, Melanie Safka, Leonard Cohen, Luluc). Songs of social justice that heal." Ruth Hazleton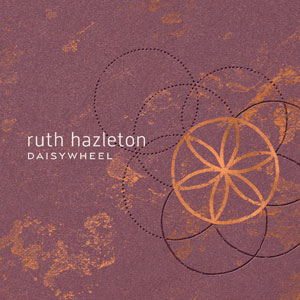 "Ruth's new solo release Daisywheel takes this sense of gentle unhurried exploration a step further. New production ideals meet old tunes, old poems are adapted, new songs are written on old themes, traditional tunes find themselves underpinning contemporary lyrics. Like the Daisywheel on the album's cover everything is cyclic and self-supporting, the final picture is arrived at via any number of musical detours….. Put simply it's a record with traditional roots that could take its place and hold its own on any current playlist".
Mick Thomas (Weddings, Parties, Anything)

"Ruth Hazleton's Daisywheel is a breathtakingly beautiful work of diverse folk music that moves as it informs. Artistically deft and politically relevant, this album unapologetically stands up for First Nations, women, ethnically persecuted Kurds and the planet, taking aim at oppression, religious hypocrisy, war and greed. If an artist's job is to speak the truth of their time, these are the sounds and sentiments we want on our side."
Les Thomas (Unpaved)



RUTH HAZLETON - DAISYWHEEL
MELBOURNE ALBUM LAUNCH
Thursday February 20, 2020, 8.00pm
The Spotted Mallard, 314 Sydney Rd, Brunswick.

Pre-Sale: Reserved Seats $25 (+b/f)
Pre-sale: General Admission $20 (+b/f)
Doors: 6.00pm (Dinner available) - Showtime: 8.00pm

"Every now and then I come across an artist who makes me sit up and pay attention. Ruth Hazleton is one such artist. When she sings, I believe her. Her songs are welcome in my ears and my heart." John Schumann (Redgum)

DAISYWHEEL is the highly anticipated first solo album from one of Australia's most respected folk singers, Ruth Hazleton. A multi-award-winning musician, singer and songwriter, Ruth has toured nationally and internationally in a career spanning twenty-five years.

Armed with an electric guitar and banjo and a collection of traditional and original songs, Ruth will be joined onstage by a full electric band including Guitars, Banjos, (Fiona Steele), Upright Bass (Oscar Neyland), Drums & Percussion (Justin Olsson), Mandolin, Oud and Yayli Tambur (Paddy Montgomery). Daisywheel is a stunning new sound brimming with originality and something to say.

The ten songs on the album are varied, political and strident; whether wrangling with matters of the heart or dealing with themes of injustice, conflict, displacement and defiance. Four songs are original, five are traditional (English, American & Swedish in origin) and one is a Henry Lawson poem that Ruth has composed the music for.

Musically this album is very adventurous; incorporating all of the influences that have shaped Ruth's musicianship over the years and in many ways escapes strict boundaries of genre. There are flavours of Eastern European music, Middle Eastern music, Celtic music, old-time American music, straight up rock and roll, folk rock, lashes of electronic programming and beats, ambience and a salute to one of Ruth's great genre loves; British trip-hop and down beat.


This will be a huge night. Make sure you book early..... all roads lead to The Spotted Mallard!





*************************



RESERVED SEATING: $25 (+b/f)
GET THE BEST SEATS AT THE BEST TABLES $25 (+b/f)

A RESERVED SEAT is highly recommended for this show! Book early to get the best seats!

Reserved Seating is all at tables, and it's a TWO STEP process.

STEP 1. Purchase your Reserved Seat using The Spotted Mallard online ticketing system.

STEP 2. Then email The Spotted Mallard on reservations@spottedmallard.com and make your table reservation. Your reserved seating tickets need to be attached to a table with your name on it - so don't forget to email!

TABLE RESERVATIONS
Table bookings typically range in size from 2 people right through to 10-12. Once you have purchased your Reserved Seat tickets, simply email the Spotted Mallard to make your table reservation.

Book early for the best tables!