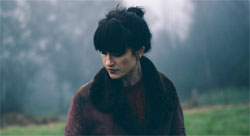 RESERVED SEATING: GET THE BEST SEATS AT THE BEST TABLES - $20 (+b/f)
A RESERVED SEAT is highly recommended for this show! Book early to get the best seats!

Reserved Seating is all at tables, and it's a TWO STEP process.

STEP 1. Purchase your Reserved Seat using The Spotted Mallard online ticketing system.





STEP 2. Then email The Spotted Mallard on reservations@spottedmallard.com and make your table reservation. Your reserved seating tickets need to be attached to a table with your name on it - so don't forget to email!

TABLE RESERVATIONS
Table bookings typically range in size from 2 people right through to 10-12. Once you have purchased your Reserved Seat tickets, simply email the Spotted Mallard to make your table reservation.

Book early for the best tables!
GENERAL ADMISSION: Pre-Sale $15 (+b/f) or at the door $25
General Admission ticket holders cannot reserve their seating or reserve a table. However, any seating that remains after all Reserved Seating has been allocated, can be taken by General Admission ticket holders on a first-come first-serve basis on the night.
DINNER AT THE SPOTTED MALLARD
The Spotted Mallard is a brilliant place to have a meal. Whether you have a Reserved Seat or General Admission Ticket, you can order a meal before the show from our dinner menu.


THE PURPLE DENTISTS WITH ANNA CORDELL

Thursday November 29, 8.00pm
The Spotted Mallard, 314 Sydney Rd, Brunswick
Reserved Seats $20 (+b/f) | General Admission $15 (+b/f) | The door: $20
Doors & Dinner: 6.00pm | Showtime: 8.00pm
They're back! The Purple Dentists return to The Spotted Mallard for their first show since 2015 and we're excited!

Also super-excited to announce that after an extended break from performing, the wonderful Anna Cordell returns to open the show.

"When you hear her you know you are listening to something very special ..."
Bill Jackson

The music of the Purple Dentists is based on the Irish tradition but also incorporates elements of Zydeco, country swing, free improvisation and contemporary compositions.

Each Purple Dentist show is a gem to be treasured, a musical tightrope which is navigated with breath-taking bravado as the diverse talents of Dan Bourke, Anthony O'Neill, George Butrumlis and Steve Groves come together on stage!

.... this will be one of the shows of the year!

Dan Bourke: fiddle, vocals | Anthony O'Neill: fiddle, mandolin

George Butrumlis: piano accordion | Steve Groves: guitar, vocals
_______________________________________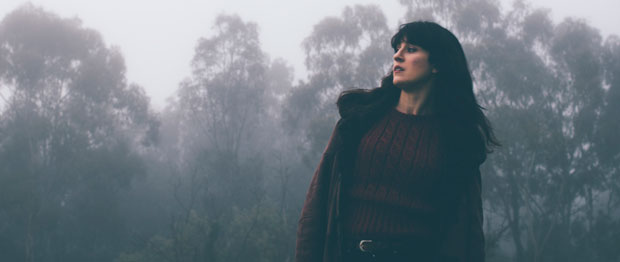 ANNA CORDELL
Anna Cordell is a treasure! Her deceptively complex folk music straddles that place between light and dark where true human emotion exists. Her penchant for the minor key coupled with her intricate nylon and electric guitar playing and haunting yet uplifting voice make for an incredibly enthralling performance.

"When you hear her you know you are listening to something very special ..."
Bill Jackson

"Amid the masses of talented songwriters and folk singers in Melbourne, Anna Cordell is emerging as something exceptional. Her songwriting is mature, dynamic, melodic and honest. Her wistful but commanding voice, accompanied by fluid nylon string guitar deserves to be widely heard and celebrated."
Ruth Hazelton

Her path is both intriguing and life-affirming.

"I wrote my first song at 15, showed my first to another at 18, was encouraged and inspired to keep writing through my ever- useful (!!) arts degree and decided to study music full time after that. I lasted about 4 months before I put it on pause to have my first beautiful baby girl. I was 22 and for some reason decided music was now impossible, so it was a really, really long pause. I threw it all in. I worked like a maniac as a fashion designer and had 3 more daughters."

After 8 years, and wondering if she had made the right choice to adandon her music for fashion, she picked up her grandmother's old nylon guitar, and to her surprise a flood of songs came pouring out.

"It all took hold again and I was pouring out the music I had tried to squash for so long. I think a little life experience might just be conducive to some decent songwriting as it turns out (funny that!)"

Anna was soon back performing, pulling an impressive collection of musicians around her. She released her 1st EP These Walls in 2014 winning national and international radio play with fans across the country, including the likes of Clare Bowditch and Archie Roach.

"This breathy, dreamy folk-pop makes us wonder why we haven't heard much of Anna Cordell before. It's got a distinctly Australian feel, thanks to her unaffected voice, and the lavish arrangement courtesy of producer Marty Brown makes it sound classy as hell. Cordell is the kind of artist who has the potential to be a firm favourite with Aussie audiences, we can't wait to see what happens."
Double J

After another 12 month break from performing, and a 5th daughter, Anna is back o9n stage - and we're excited! Her long awaited 1st album is due for release next year.

"I'm spending my days with my girls, singing and writing - it's hectic and beautiful!"

______________________________________________________________

THE PURPLE DENTISTS
The Purple Dentists formed in Brunswick back in the 1980's and went on to perform at the first two Brunswick Music Festivals in 1989 and 1990. They reformed in 2013 for an appearance at the 25th Anniversary Brunswick Music Festival, and went on to hold court at The Spotted Mallard from 2013-2015, performing a number of legendary shows at this much-loved Sydney Rd venue.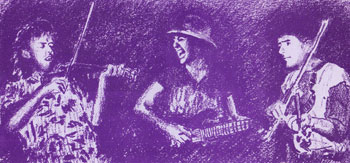 The original Purple Dentists
Dan Bourke, Louis McManus, Anthony O'Neill
Illustration by Peter Keown

The Purple Dentists, as the name might suggest, were something of a musician's fantasy – a loosely defined coterie of pals and musical cronies who played anything and everything to enthusiastic punters. This happened in Brunswick during the 1980s at the Retreat hotel. At the time the Retreat was a marvellous Greek pub with no light, no ventilation and the clandestine air of a mob lair. We played there almost exclusively in a time when heavy clouds of cigarette smoke, even in the pub kitchen, were a mandatory adjunct to the music. The repertoire of the band was stylistically diverse, from jigs and reels to hungarian dances, original songs to country standards. It was based on seat-of-the-pants improvisation with a modicum of rehearsal. In truth, the playing sometimes scaled great heights and we all enjoyed walking our musical tightrope.
Dan Bourke: The Purple Dentists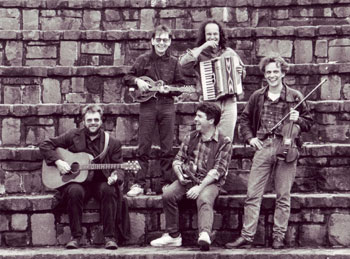 The Purple Dentists circa 1989:
Steve Groves, Louis McManus, George Butrumlis, Anthony O'Neill, Dan Bourke
Photo by Liz Reed