RESERVED SEATING: $25 (+b/f)
A RESERVED SEAT is highly recommended for this show!

Here's how it works:
1. Purchase your Reserved Seat tickets using The Spotted Mallard online ticketing system.





2. Then email The Spotted Mallard on reservations@spottedmallard.com and let them know what time you will arrive, where you would like to sit, and how many will be sitting at your table.

TABLE RESERVATIONS
Gather friends and family and make up a table with reserved seating. Table bookings typically range in size from 2 people right through to 10-12. Once you have purchased your Reserved Seat tickets, simply email the Spotted Mallard to make your table reservation.

Book early for the best seats!
GENERAL ADMISSION: $20 (+b/f)
General Admission ticket holders cannot reserve their seating or reserve a table. However, any seating that remains after all Reserved Seating has been allocated, can be taken by General Admission ticket holders on a first-come first-serve basis on the night.
MEALS BEFORE THE SHOW
The Spotted Mallard is a brilliant place to have a meal. Whether you have a Reserved Seat or General Admission Ticket, you can order a meal before the show from The Spotted Mallard dinner menu.
LUKE PLUMB and THE CIRCUIT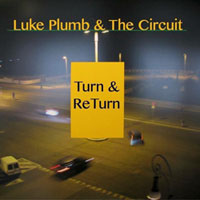 Album Launch!
Wednesday February 21, 8.00pm
The Spotted Mallard,
314 Sydney Rd, Brunswick.



ONLY MELBOURNE SHOW!
Pre-Sale: Reserved Seats $25 (+b/f)
Pre-sale: General Admission $20 (+b/f)
On the night: $25 at the door
Doors and Dinner: 6.00pm - Showtime: 8.00pm

"They call themselves Luke Plumb & The Circuit and I can't get enough of them. As I listen, Variety-style headlines are exploding in my mind. Boffo! Magnificent! Monstrous! I tell you, they are that good, enough so that I can't sleep until I get this written."
Album Review by Frank Gutch Jr, NO DEPRESSION.


**********************************

Turn & ReTurn by Luke Plumb and The Circuit is the first new body of work since the world renowned mandolinist departed from Shooglenifty to return home to Australia.

With a new band drawing on the talents from members of the John Butler Trio, Flap!, Trouble in the Kitchen and Emma and the Putbacks, Turn & ReTurn is bold music drawing on 15 years of musical interactions from around the world.

Grounded in traditional musics, driven by dance rhythms and highlighted by sparkling interwoven composition and improvisation.

Luke Plumb: mandolin and vocals; Eamon McNelis: vocals and trumpet, Kate Burke: guitar and vocals, Shannon Birchall: double bass, Rory McDougall: drums and Jem Dunlop: guitar .... what a killer band!

The music is a kind of shooglenifty meets cretan music meets the velvet underground meets acid jazz.

This will be one of the shows of 2018!

The Drowsy Maggies will open the night in fine style. The four girls were awarded the Gill Rees Memorial Award for best new talent at the 2016 National Folk Festival after dazzling audiences with their beautifully arranged original songs and cracking tune sets. Featuring singer songwriters Ari Lane & Rhiannon McArthur, fiddler Caity Brennan and double bassist Jordy Hickey, The Drowsy Maggies will be bringing music from their debut CD, produced by Luke Plumb

The Spotted Mallard will once again be the place to be!

**********************************


HAVE A LISTEN
The music is a kind of shooglenifty meets cretan music meets the velvet underground meets acid jazz.




CLICK HERE to listen to Still Shining from the album Turn and ReTurn.

STILL SHINING
My first trip to Spain was terrifying. I tried to be brave and head out on my own, clue and phrasebook bereft. I felt like a toddler - dumbly pointing at things and reading the label. I even pointed at some cheese and said in Spanish repeatedly "on sale". I loved every second of it. My frontline sparring partner in Shooglenifty, Angus, loved this as well and we would always seek out the feeling of being fish out of water while on tour. He burned brightly and then burned out and the world is smaller for that loss. Ultimately I do believe in a universal element of benevolence. There is a generosity inherent to the balance in nature that I think is conceptual bed rock. I don't believe in good and evil but I do believe in coincidental generosity. The sun is a perfect example of that.

In his own words, "Lyrically, this album was written well after I had the instrumental parts completed and demos recorded, but they follow themes that I have been grappling with for a long time; the story our era will tell future generations looking back; the nature of belonging and what constitutes home; places to look for optimism in troubling times".



*******************************************************




"Luke Plumb and the Circuit taking the roof off the Troubadour here at Newstead Live!" - Facebook post from Judy Turner

WHAT A KILLER BAND!
Luke Plumb introduced The Circuit for the first time at Newstead Live! last weekend, and what a killer band they are!

Luke Plumb - Vocals, Mandolins, Programming, Keyboard

Shannon Birchall - Double Bass (John Butler Trio)

Kate Burke – Guitar, Vocals (Trouble In The Kitchen)

Jeremy Dunlop – Guitar

Rory McDougall – Drums (Emma & The Putbacks)

Eamon McNelis – Vocals, Trumpet, Flugelhorn (Flap!)

Luke describes the music as traditional form melodies arranged in the context of groove based songs with a rhythm section that is grounded in the drive of Cretan music and the fluidity of Terry Riley organ improvisations. Comprising of a twin frontline from Luke's searing mandolin and Eamon McNelis' sinuous trumpet, driving twin acoustic guitars from Kate Burke and Jem Dunlop and locked together by Shannon Birchall's double bass and Rory McDougal's drums, this is a band made for live performances.

In his own words, "…I envisaged a gig fronted by duelling melodic lines on trumpet and mandolin, backed by a rhythm section drawing on the pulsating sound of Cretan lutes, the rebellious acoustic guitar style of Keith Richards and the Velvet Underground's throbbing Moe Tucker drum sound. I knew the constituent parts and the effect they would have on the audience but the music itself needed to be discovered. It took 7 years to figure out what music would be the soundtrack to the experience I saw that night".

*******************************************************

THE SPOTTED MALLARD IS THE PLACE TO BE!