2018 BRUNSWICK MUSIC FESTIVAL
Moreland City Council's Brunswick Music Festival returns in March, with Melbourne's iconic fortnight-long party program celebrating 30 years of fostering live music and local talent.
CLICK HERE for the full program
CHRIS WHILE & JULIE MATTHEWS
RESERVED SEATING: $35 (+b/f)
A RESERVED SEAT is highly recommended for this show!

Here's how it works:
1. RESERVED SEAT TICKETS
Purchase your Reserved Seat tickets using The Spotted Mallard online ticketing system.





2. MAKE YOUR TABLE RESERVATION
Once you have purchased your Reserved Seat tickets, simply email the Spotted Mallard on reservations@spottedmallard.com to make your table reservation, and let them know what time you will arrive, where you would like to sit, and how many will be sitting at your table. Table bookings typically range in size from 2 people right through to 10-12.

Book early for the best seats and the best tables!
CHRIS WHILE & JULIE MATTHEWS
GENERAL ADMISSION: $30 (+b/f)
General Admission ticket holders cannot reserve their seating or reserve a table. However, any seating that remains after all Reserved Seating has been allocated, can be taken by General Admission ticket holders on a first-come first-serve basis on the night.
CHRIS WHILE & JULIE MATTHEWS
MEALS BEFORE THE SHOW
The Spotted Mallard is a brilliant place to have a meal. Whether you have a Reserved Seat or General Admission Ticket, you can order a meal before the show from The Spotted Mallard dinner menu.
CHRIS WHILE & JULIE MATTHEWS
WITH CHARM OF FINCHES



Wednesday March 7, 2018, 8.00pm
The Spotted Mallard, 314 Sydney Rd, Brunswick.

ONLY MELBOURNE SHOW!
Pre-Sale: Reserved Seats $35 (+b/f)
Pre-sale: General Admission $30 (+b/f)
On the night: $35 at the door
Doors and Dinner: 6.00pm - Showtime: 8.00pm

With 22 years of unrivalled musical partnership gathering numerous nominations, awards and critical acclaim along the way, English singer/songwriters, Chris While & Julie Matthews return to their beloved Australia, which has become their second home. This will be their thirteenth visit in 20 years. They bring with them their latest studio album, Shoulder to Shoulder which has garnered much media attention and rave reviews.

Melbourne-based duo Charm of Finches will open the show in style with their signature angelic sibling vocal harmonies and stunning song-writing which comes complete with lashings of guitar (Mabel) and fiddle and glockenspiel with some faint strains of banjo (Ivy).
All Roads Lead to The Spotted Mallard.....!

**********************************
Chris While (Vocals, Guitar, Banjo, Dulcimer, Bodhran and Percussion) & Julie Matthews (Vocals, Piano, Guitar, Mandolin and Bouzouki) are breathtaking singers, songwriters, musicians and performers whose energy and commitment to their craft and their audience is boundless. They have been hailed the best and most hard working acoustic duo on the folk roots scene.

Though internationally acclaimed, they continue to be a leading force on the UK's acoustic/roots arts circuit. Their songs cover life as they see it, from the industrial waste lands of the north, to injustice and freedom, matters of the heart and everything in between. Their songs are covered by many revered singers the world over but it is While & Matthews' musical partnership and obvious joy of performing together that really brings their songs to life. As performers they are unrivalled and their audiences leave their concerts having been through every emotion possible.

They have been nominatated eight times in the BBC Radio 2 Folk music awards in the 'Best Song, Best Duo, Best Live Act' categories.

Chris While and Julie Matthews' musical partnership began in 1993 when they were key members of the legendary folk super-group The Albion Band. In 1997 they left the band to concentrate on their work as a duo which has seen them tour throughout the world and gain an ever growing devoted fan-base. Their songs have been covered by a range of artists including Mary Black, Barbara Dickson, Christine Collister and Fairport Convention.

Both multi-instrumentalists, Julie plays guitar, piano, ukulele, bouzouki, mandolin, harmonica and accordion while Chris plays guitar, bodhran, banjo, dulcimer and percussion. Their musical careers have produced successful solo albums and a variety of projects away from the duo including the Christmas band 'St Agnes Fountain' with David Hughes and Fairport Convention's Chris Leslie.

Eight studio and two live albums later their partnership flourishes...

**********************************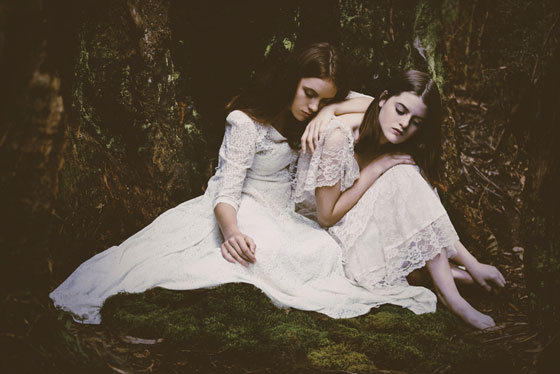 Charm of Finches are a Melbourne-based duo featuring teenage sisters Mabel and Ivy Windred-Wormes. Theirs is music to gaze at stars by and their sound has been described as chamber folk, their signature angelic sibling vocal harmonies and stunning song-writing comes complete with lashings of guitar (Mabel) and fiddle and glockenspiel with some faint strains of banjo (Ivy).

They are winners of the 2017 National Folk Festival Gill Rees Young Musicians' Award, and their debut album, Staring at the Starry Ceiling was named one of the best releases of 2016 by Radio National.

"For a duo so young to conjure a full album of music so candid and original as this is astonishing .... Charm of Finches sound like they're mining something far more ancient and universal." Rhythms Magazine

"There's also the simple beauty of family voices intertwining, with Charm Of Finches' Mabel & Ivy – and even their names seem perfectly anachronistic for the folk purity of their music...slightly mystical alternate reality, maybe owing something to Joanna Newsom and that ilk. Despite - or perhaps because of - their youth, the music they make is affecting and emotional. " The Music

"Charm of Finches make gorgeous chamber pop...their harmonies are immaculate and stirring as they move through an honest and, well, charming lyric." Tone Deaf

**********************************


**********************************
CHRIS WHILE and JULIE MATTHEWS

"What is there to say? I long ago exhausted my thesaurus of superlatives when it comes to reviewing the duo's albums, leaving me struggling to find the words to do them justice." NET RHYTHMS

"Their pedigree is without question. Both are supreme songwriters & instrumentalist & it's the union of their two wonderful voices which is the crowning glory with the emphasis being on the exquisite two part harmonies." ROCK SOCIETY

"While & Matthews are dazzlingly good multi-instrumentalists but it's their skill as close-harmony singers that defines their sound. Nie Wieder (Never Again), their tribute to German-Jewish athlete Gretel Bergmann, is outstanding" DAILY EXPRESS

**********************************
THE SPOTTED MALLARD IS THE PLACE TO BE!